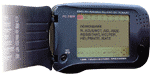 Cena: 890 zł&nbsp


Kup teraz | Akcesoria
Angielsko<->Arabski mówiący słownik i organizer biznesmena o pamięci 128K

Bezkonkurencyjny dla ludzi, prowadzących interes w Azji,dla nauczających się języku. Dodatkowe cechy: funkcja zapisywania nowych wyrazów, organizer biznesowy o pamięci 128K z książką telefoniczną, notatkami, kalendarzem, terminarzem, listą rocznic, obliczeniami oraz funkcją zabezpieczenia danych.



Cena: 800 zł&nbsp
Kup teraz
Angielsko-Arabski słownik

Arabsko-Angielski translator. Jest bardzo pożyteczny w podróży, też dla emigrantów. Słownik główny zawiera ponad 300 000 haseł, w tym terminy z dziedziny medycyny, techniki, prawa, biznesu, a także wyrażenia żargonowe, slangowe oraz ogólne. Posiada też idiomy amerykańskie oraz ponad 1000 wyrażeń i zwrotów podzielonych według typów sytuacji.



Cena: 800 zł&nbsp


Kup teraz | Akcesoria
Category:
Talking dictionary
Language pair:
English<->French, Arabic<->French, English<->Arabic
French<->English, French<->Arabic, Arabic<->English
Vocabulary:
650,000 words
Size:
4.6x3.5x0.6 in
Weight:
4 oz
Battery Type:
2 x AAA batteries, included
PC connection
Yes
This is our classic trilingual text-to-speech series. These handheld dictionaries are reliable, multifunctional, and highly capable. Business class models, these Partners® are your true partners. They are capable of English and French speech synthesis, the winning combination of functionality, speed, classic business features - they are reasonably priced and that is what makes these models truly stand out and make their mark.
Effective learning curve
This model, representing the latest generation of the high-performance integrated linguistic tools available, is the new addition to our 400 talking dictionary series.
Trilingual interface
QWERTY keyboard, standard and phonetic keyboard layouts
Medical, technical, legal, business terms, as well as slang, idioms, and general expressions
English and French voice synthesis functions in the dictionaries
Over 1,100 commonly used and emergency phrases grouped into 12 topics for easy navigation
Vector UltimaTM spell-checker allows you to enter words as you hear them and pick a spelling from the suggestions list
New words recording function will allow you to customize your dictionary
Added functionality
English/French/Arabic personal organizer for scheduling and telephone numbers, equipped with search function comply with highest industry standards
Built-in metric and currency converters are indispensable tools for a business traveler
AC adapter, PC-link options available; purchased separately
For complete information on this model, please refer to the instruction manual available in PDF format.